Online Bill Pay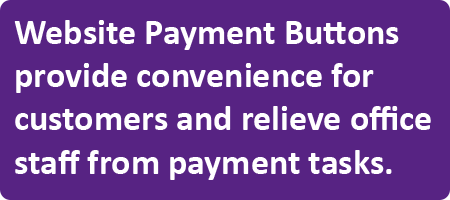 Process-Direct can provide website configuration, payment button graphics, and html code work to help make it easy for your business to implement online payment capabilities.
---

button example
---
One of the most overlooked, yet beneficial payment transaction utilities is an online bill payment strategy using a website payment button or link. This capability is a built-in feature for many secure payment gateways.
The link takes the user to an online payment portal where they can begin a payment transaction by entering a payment amount and purchase order number or invoice number. They are then directed to a webpage that is hosted on the secure server of the payment gateway where sensitive credit card, bank account, and personal credentials are entered. When the payment is submitted, the user receives an email receipt for the transaction and the merchant receives an email notification that payment was received.
Advantages of utilizing such an online payment portal are numerous and include:
Permit customers to make payments easily and securely 24/7/365.
Relieve office staff from conducting tedius payment transaction duties.
Implement paperless bill collection by sending past-due notices by email with a clickable link to the payment portal.
Improve data security by reducing the handling of customer's sensitive credit card and bank account information by office staff.
Process-Direct helps merchants implement website payment buttons. We can conduct payment portal configuration so it can match the look and feel of your website as well as provide assistance with deploying html code and payment button graphics onto the merchant's website.
Read More