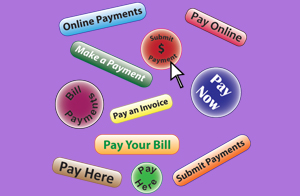 A secure payment portal that is accessed with a payment button or hyperlink turns any merchant's website into a 24/7 accounts receivable tool.
Firms engaged in distribution and service activities can benefit by having mechanisms in place which support easy and cost-effective inbound payment acceptance. Modern techniques which may not have been considered can reduce costs, streamline operations, decrease errors, and increase cash flow.
For example, many businesses have overlooked the advantage of using their website as a 24/7 accounts receivable tool. Showing a couple credit card logos and including a link or button on the website is a simple way for letting customers know that you're easy to do business with. Such links direct customers to a secure, hosted payment portal that is configured to match the look and feel of the website. Customers who use the payment portal are able to do so anytime – day or night, allowing them to make payments whenever it is most convenient for them. This practice not only offloads the burden of payment transaction processing to the buyer, it reduces clerical errors, eliminates dealing with declined credit card transactions, simplifies bill collection practices, and frees up time for office staff.
You don't have to have an e-commerce web store to merely receive payments – just direct customers to your secure payment portal and let it do the rest. Customers simply input their payment amount and invoice or purchase order number and proceed with a payment method. Gateways are capable of not only credit card payment transactions, but also debit cards, ACH transfers, and eCheck transactions.
The payment portal not only permits a simple way for customers to settle outstanding invoices for themselves, it makes it easier than ever to follow up on past due bills. Sending customers an email with a request to resolve a past due bill, along with a clickable link to the payment portal, allows the merchant to receive immediate compensation. Past due funds are received in a more timely fashion and with less effort since paperwork, postage, and handling are reduced. In addition, cash flow is improved – helping the business thrive.
The low cost of implementing an online payment gateway with a secure payment portal can easily be justified. A variety of benefits can be realized, including:
Accept payments 24/7/365 with no effort.
Permit customers to pay their bills at their convenience – anytime day or night.
Allow customers to pay online using their own method of choice – easily and securely.
Convert past due accounts to cash flow by flipping customer debt to their credit card account.
Boost efficiency by using email notifications with payment links - eliminate printing and mailing invoices.
Reduce bill collection activities and paperwork – and postage – and handling.
Relieve office staff from processing payment transactions.
Reduce cumbersome payment transaction declines and errors.
Receipts and payment notifications are automatically generated and easily retrieved – organizing what is needed for accounting reconciliations and tax returns.
Payment records are securely stored online, permitting easy access and report generation.
Costly website security certificates are not required.
The benefits of having a secure, online payment gateway extend beyond the payment portal. The secure gateway can also serve as the conduit for other payment transaction methods as well. Possibilities include mobile payment apps with smartphones or Wi-Fi connected tablets, point of sale systems, internet browser applications, and even directly from QuickBooks applications. The use of a tablet point of sale application can eliminate the need for countertop credit card terminals and offer the advantage of building a customer contact data base from the cardholder data obtained – allowing marketing activities to routinely reach out to the customer base. Considering all the benefits, it becomes clear that implementing a secure online payment portal provides effective accounts receivable resources that should not be overlooked.
Obtaining an assessment of current practices surrounding payment transactions is an important first step for understanding which available options should be considered to improve operations. Process-Direct Merchant Services helps business owners and accounting personnel evaluate, select, and implement low cost secure payment gateway services to improve the efficiency of their operations, save money, and improve cash flow. Our free consultative approach offers an upfront, concise, and easy-to-understand way to evaluate modern electronic payment processing options.
Process-Direct Merchant Services helps business owners and accounting personnel understand, evaluate, and implement cost-effective solutions for online payment gateways, website payment transactions, and merchant accounts for charge card, eCheck, and ACH payment processing.