Savings Analysis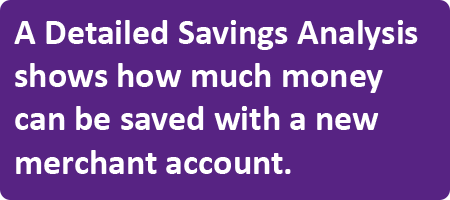 Merchant accounts are configured with a wide variety of discount rate and fee structures. It is often difficult to understand whether the merchant is getting a fair deal since the monthly account statements can be confusing. Merchants sometimes believe they are getting a great "rate" until the additional fees and unqualified transactions are taken into consideration.
As a free courtesy, we will take a look at your monthly account statements and advise whether savings can be realized by taking advantage of an account representing a more competitive cost structure while maintaining the needed services. A comprehensive analysis will be provided that offers clear information and costing surrounding the account features.
Process-Direct represents multiple merchant account providers that we are able to leverage to ensure that the merchant is getting the best value for the services included with their account. We will work on your behalf to make certain that you get what you need at the best price.
Contact Us