Secure Payment Gateways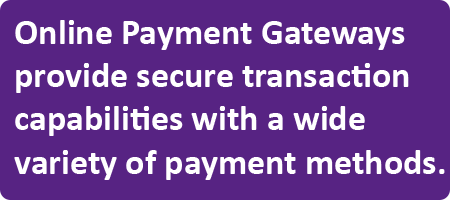 An online payment gateway is a secure internet-based portal through which a merchant can submit electronic payment transactions. The merchant pays a monthly fee for the gateway account. Additonal transaction fees and service fees may be added, depending on the gateway configuration and features offered.
Gateways can accommodate a variety of payment types, including e-checks, ACH bank transfers, credit cards, debit cards, and gift cards. A variety of methods can be used to submit the payment transaction to the gateway, including online virtual terminals, countertop terminals, pc-based point of sale systems, ecommerce shopping carts, Android & iOS mobile apps, and API's for accounting programs & enterprise payment solutions.
Process-Direct is an authorized reseller of the eProcessing Network gateway and their suite of value-added payment transaction utilities. We also represent several other gateways which are available as bundled solutions with the merchant account programs that we represent. We'll help you determine which gateway configuration is best for your business needs and make sure you get it a fair price.
Read More