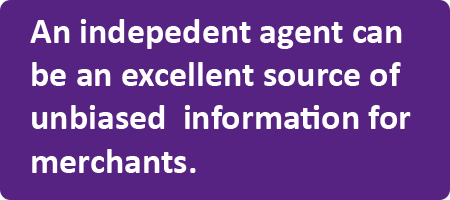 It shouldn't be hard, right? After all, just about every business accepts credit cards these days and with banking apps for smartphones, check deposits are becoming as easy as snapping a photo. With a quick internet search for "remote check deposit", "credit card processing", or "merchant services" anyone can find an abundance of companies out there who all say they are the best. However, like many things in life, what's best for one isn't necessarily the best for all.
For business needs, it can be advantageous to find a partner who better understands your specific requirements and possesses the knowledge and skills to help with implementing tailored solutions. While this statement may sound like an invitation to have to pay more, it actually can be quite the contrary. A good partner will find ways to save the company money while offering services that best meets their needs and improves their efficiency. In this article we breakdown some of the advantages and limitations with certain avenues for obtaining merchant services for distributors and manufacturers.
ISO/MSP's
An ISO (Independent Sales Organization) or MSP (Member Service Provider) is certainly where most credit card payment processing merchant accounts will be administered, however, these players may not offer the variety of ancillary services or have staff with the dedicated knowledge of the payment transaction processing scenarios that distributors and manufacturers can benefit from taking advantage of - such as an online bill payment solution. The agenda for many ISO/MSP's is to offer a core set of services (like card payment processing and point of sale equipment) and then sign on just about anyone as a sales representative who will walk-up to and prospect retail shops, restaurants, salons, and medical offices. This practice fosters an intensely competitive landscape which ultimately becomes just a numbers game and leads to a nuisance factor that many retailers encounter. While great ISO/MSP's certainly exist, finding them in a sea of choices is not so easy.
Merchant Acquirers
The Merchant Acquirer is the necessary top rung in the ladder for credit card payment processing. These are the entities that submit the electronic payment transactions to the payment card associations (Visa, MasterCard, etc.) and facilitate revenue deposits into the merchant's bank account. Their focus is to ensure that their high volume of payment transactions are handled smoothly. While it is possible to enter into a merchant services agreement directly with a merchant acquirer, it is not so common since these folks do not necessarily maintain a sales staff for merchants to interact with nor will they offer ancillary services, like check processing and secure payment gateways that merchants need in order to round out their payment transaction processing requirements. Instead, acquirers rely heavily on relationships with ISO/MSP's to handle the sales, administration, customer service, and additional processing requirements for merchants, as well as any equipment that may be needed to conduct the card payment transactions.
Banks
Oftentimes the bank is not the best choice. Contrary to what many will assume, some banks farm out merchant services to an ISO/MSP. Although this isn't necessarily a bad thing, it can insert a layer of administrative hassle and cost. In addition, the bank representative may lack dedicated knowledge and be less aware of, or even be able to offer, services that may best fit the needs of a particular merchant segment. However, some banks are actually ISO/MSP's and these would have staff more dedicated to address the merchant services needs of their business clients.
Associations or Groups
Industry associations or purchasing, advocacy, and marketing groups are another avenue as many will offer merchant services benefits to their member organizations. While this can yield solid credit card payment processing services at a great rate, a diverse set of ancillary services may not be in the deck. Similar to the bank example above, these groups simply pass on this service to a selected ISO/MSP who has offered a great rate or kickback to the association. While many of these relationships can work out just fine, the limitation of service offerings or value-added assistance can be a drawback.
Independent Agents
An independent agent in the merchant services arena can be an asset to any business. The reason is simple. Being independent permits the agent to work outside any pre-defined set of service offerings in order to bring the best value and service level to the merchant. This formula is similar to that of an insurance agent or investment advisor. The independent agent works on the merchant's behalf and can negotiate account structures from a variety of ISO/MSP's, secure gateway providers, and check/ACH processors as well as POS equipment and software. By fleshing out service providers and leveraging multiple relationships, the agent can ensure that merchants are getting a fair deal from reputable providers. An agent can specialize in putting together a mix of services that best fits the needs of a particular merchant segment, drawing upon experience in other industries or associations. For example, an understanding of website development can qualify the agent for helping merchants to configure their websites with an online bill payment solution. Many ISO/MSP's rely on independent agents to extend their reach and bring personal service to prospective and existing merchants. An independent agent can also be an excellent source of unbiased information for merchants.
Have a Conversation
It's never a bad idea to discuss business needs and evaluate modern payment transaction processing capabilities that can offer the benefits of an uptick in workplace efficiency, improved cash flow, and overall cost savings. Working with an independent agent can yield results that are best targeted towards the needs and perspective of the merchant, particularly in a business-to-business sales transaction environment.
Process-Direct Merchant Services helps business owners and accounting personnel understand, evaluate, and implement cost-effective solutions for online payment gateways, website payment transactions, and merchant accounts for charge card, eCheck, and ACH payment processing.